Madonna's teenage daughter Lourdes Leon has become a fashion blogger.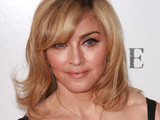 The 13-year-old has started a fashion blog to write about Material Girl, the fashion range she is set to launch with her mother at Macy's.
"Helluuur thurrrr, I'm Lola and this is my first blog entry so it's kind of like ummmm," Lourdes wrote on the blog.
Lourdes wrote about turning 14 in the post.
She enthused: "I'll be 14 in October, so I can't wait for that because I am FINALLY allowed to dye my hair… THANK YOU MOTHER!!"
The teen revealed that her fashion line would be "'80s themed" and that her favourite band is My Chemical Romance.